1. Overview
Ensure that the login credentials are for the correct account to access full administration privileges. If logged in and administration privileges are not available, please consult firstly the company management then the iFuel® Mobile Team.
Once logged in successfully, the iFuel® Mobile portal will show with the range of applications within the task bar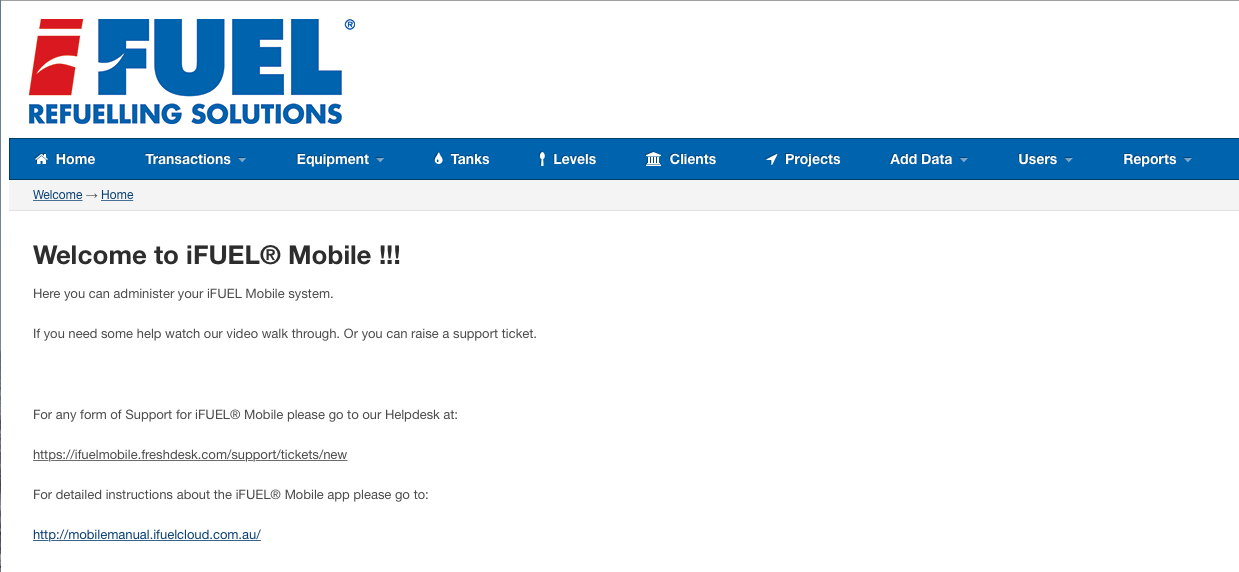 From this home page, all of the iFuel® Mobile web portal applications can be viewed and activated. The home page also provides help links to the online support portal and the user manuel for the iFuel® Mobile system.
Before progressing, please ensure that the correct plan requirements are in place. Plans can range from iFuel® Mobile Lite to iFuel® Mobile Fleet. Please review the current plan and determine if it is right for the company.
| | iFuel® Mobile Lite: | iFuel® Mobile Fleet | iFuel® Mobile Enterprise |
| --- | --- | --- | --- |
| Projects | Optional | Optional | Optional |
| Client | N/A | Optional | Optional |
| Site | Yes | Yes | Yes |
| iFuel® Mobile Units | One | More than One | More than Four |
Please note that the plan that is currently in use might differ from the information provided within this document. For any questions please contact the iFuel® Mobile Team on (07) 3204 2240